The National Journal of Biomedical Engineering is a half-yearly peer-reviewed free online academic journal. This journal publishes original research articles, reviews, brief scientific reports in the field of biomedical engineering and its specializations: Bioinstrumentation, Biomechanics, Biomaterials, Systems physiology, Clinical engineering, Rehabilitation engineering, Cellular and Tissue Engineering, Imaging, Medical Devices, Systems & Synthetic Biology.
We believe that science should be open and free for everyone: both for authors and readers.
Our aim is to publish original articles in biomedical engineering, guided only by the scientific value of the article in spite of the author's financial condition, his gender, religion and political views.
The journal is founded in 2017 and supervised by leading universities of Ukraine in the field of bioengineering: National Technical University of Ukraine "Igor Sikorsky Kyiv Polytechnic Institute", Lviv Polytechnic National University, Vinnytsia National Technical University, Ternopil Ivan Puluj  National Technical University, Kherson National Technical University, Kharkiv National University of Radioelectronics, Pryazovskyi State Technical University.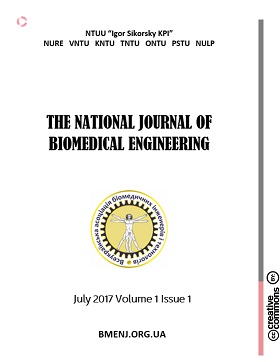 Frequency Half-Yearly
No 1 (2017): The National Journal of Biomedical Engineering №1(1)
Table of Contents
Publications
| | | |
| --- | --- | --- |
| | Leonid Fainzilberg, Kseniia Orikhovskа, Ivan Vakhovskyi | |
| | | |
| --- | --- | --- |
| | Dmytro Shtofel, Serhii Kostishyn, Ksenia Navrotska, Serhii Zlepko, Serhii Tymchyk | |
| | | |
| --- | --- | --- |
| | Natalia Pavlova, Oleg Avrunin | |
| | | |
| --- | --- | --- |
| | Vasyl Dozorskyy, Leonid Dediv, Oksana Dozorska | |